Most people will agree that the color of a room can significantly affect how it feels. They spend all their attention on the main rooms but forget about other parts of the house, such as the basement.
But the basement is an important part of the house that has its significance. With proper care, it brings joy. Not everyone knows how to decorate their basement, much less how to transform the basement ceiling by painting.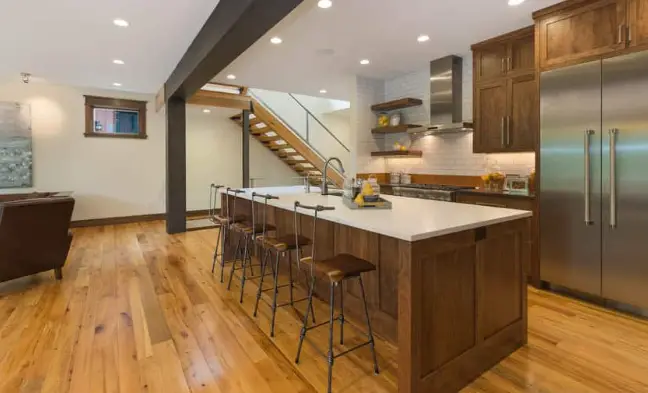 There are various elements for an effective basement ceiling design, but choosing the right paint color is the most important to create the desired environment.
The choice of color is a lottery that can change the attitude toward the basement. It can bring joy or sadness, depending on the color. We will help you get through this stage.
Advantages of painting basement ceiling
How to handle the basement ceiling is an essential question because this is the part of interior design that you cannot ignore. What to do? Is it better to have an unfinished basement ceiling or sheathe it with drywall? It would be best if you made an appropriate decision that matches your interests.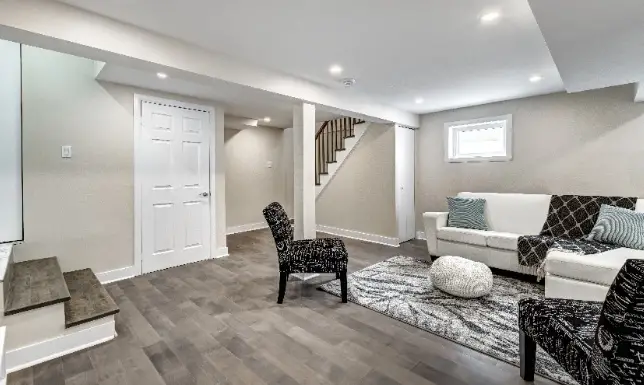 I recommend leaving the basement with an unfinished ceiling. Here are the reasons why you should paint the unfinished basement ceiling.
Ease of use
By deciding to paint the exposed ceiling, you will get more access to the upper space.
Suppose in the future you have domestic problems with water or heat. In that case, when you need access to wires or tubes on the ceiling, you need to climb the ladder and fix it without demolishing everything.
In addition, if you made a mistake with the choice of color or decided to change it later, all you have to do is paint again without removing the previous one.
Gives a more extensive space
When you choose exposed ceilings, you slightly increase the height of your basement.
When you sheathe the ceiling in the basement with drywall, it takes up much space at the top, and the room seems tiny. If your basement is low, you should not sheathe it with drywall.
In addition, if you choose the right color for painting your basement ceiling, it will give visual appeal to your guests. The white color of the exposed ceiling paint creates ample space in your basement, while the dark paint color reduces the height of the ceiling.
Affordable
Drywall costs more than a couple of cans of paint to paint. It also requires the help of a specialist, which costs money. If you want to paint exposed basement ceiling, you can do it yourself.
Time-saving
Painting an unfinished basement ceilings takes less time than attaching drywall.
All you have to do is smash the exposed ceiling blend at the start and wait until everything painted is dry at the end. In comparison, drywall installation requires several days to prepare all the plasterboard walls and sheathe the ceiling.
What are the best colors to paint basement ceiling?
Let's talk about painting your basement ceiling if you choose an exposed ceiling.
Painting gives ecstatic to the basement and good feelings to do your activities. You can select many colors, but not all are appropriate for painting an exposed basement ceiling.
The most popular paint colors are white, black, or gray. All three options are good choices you need to pay attention to. Each of them has its characteristics in which they are good.
White
White is the top choice for painting your basement ceiling.
White ceiling paint can be combined with almost all colors, giving more opportunities to play with mixing.
Making the exposed basement ceiling white gives the space a visual height and reflects more natural and artificial light. If your basement has a low ceiling and is not so illuminated and needs to be made brighter, then white paint color is the best choice.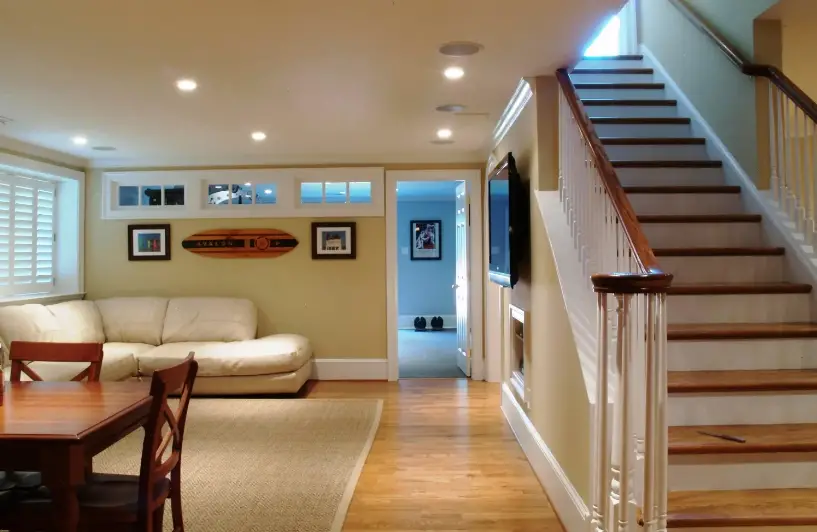 But the white ceiling paint requires more care. As time passes, the white ceiling may turn yellow in some places, and you will need to paint again. In addition, white paint is not a good choice for hiding flaws on the basement ceilings.
Black
Black paint color is opposite to white paint color. You may think that black basement ceiling do not good as white basement ceilings, but you are mistaken. Painting exposed basement ceiling in black has advantages that white basement ceilings do not.
Black color better hides flaws than white and gives the surface a sleek appearance. It is not easy to notice metal pipes on black basement ceilings.
A black-painted ceiling gives you a more private atmosphere, where your basement looks like a darkened place where you can hang out with friends. It does not reflect light as white paint; black color absorbs the light, and the entire space seems darkened. But if there is no natural light in the entire basement, do not make your exposed basement ceiling black.
A black ceiling reduces the height of your basement, and it doesn't seem as big as a white ceiling. In addition, cobwebs and dust stand out more against the background of the black ceiling.
Others
Grey
If you have trouble deciding between white and black ceiling paint, gray would be an excellent alternative to compromise both basement paint colors. It has the advantages of both colors in the middle level. It reflects the light as it is lighter than black and hides more imperfections as it is darker than white.
Gray
Gray paint is also a good compromise for white and black colors. It can make the ceiling look as bigger or smaller. It depends on which shade of gray paint you choose. If you have a low ceiling, paint it with light gray paint.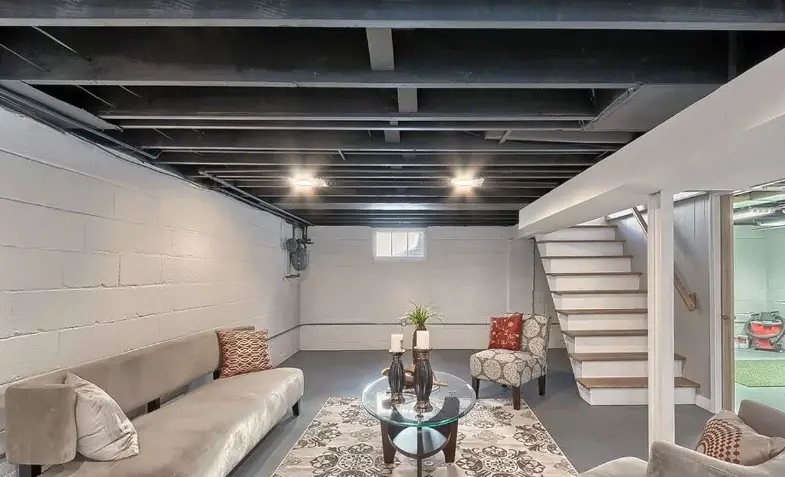 A light gray basement ceiling can give the basement a more inviting feeling. Guests will feel comfortable. It hides more flaws than white, but less than black.
How to choose which color to paint
After discussing the advantages and limitations of colors, let's talk about how to choose a color to paint. Whatever color you select, you need to look at some factors. The ceiling color should match the ceiling itself. You cannot take this lightly. Because if you make a mistake in the interior style, it will quickly catch the eyes and leave unpleasant sensations.
Basement use
Determine with what intentions you are going to use your basement. A dark basement ceiling would be preferable if it is the place for hanging out at the event. If you are going to use it for work, lighter, or bright color paint is good. As lighter and bright colors reflect light, it helps to concentrate on work and shades darker space with natural light.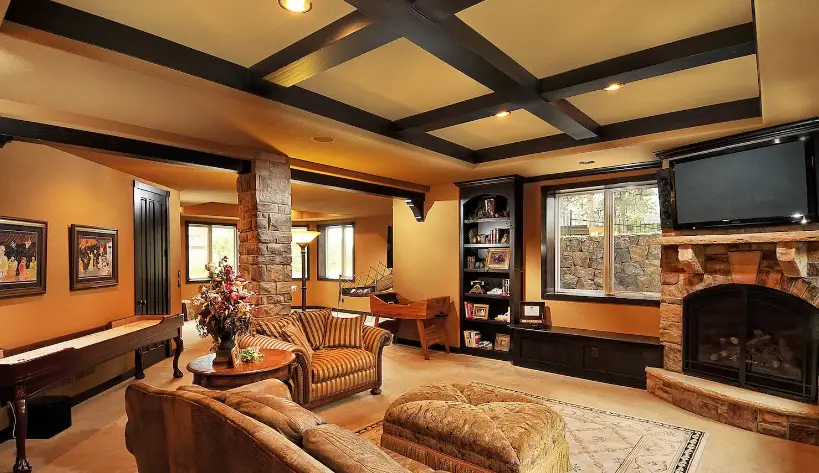 Walls
How walls are decorated also affects which color to choose to paint your basement ceiling.
For example, if your basement walls are covered with wood beams, paint them brown so that the ceiling is the same as the exposed wood basement ceiling.
Light
How much light it gets will also affect which color you choose. If there is enough natural light, use a darker color to paint. It does not let the room be sparkling, which distracts from your job. Suppose there needs to be more natural light; paint your ceiling with lighter paint colors. In that case, it reflects light and refreshes the basement.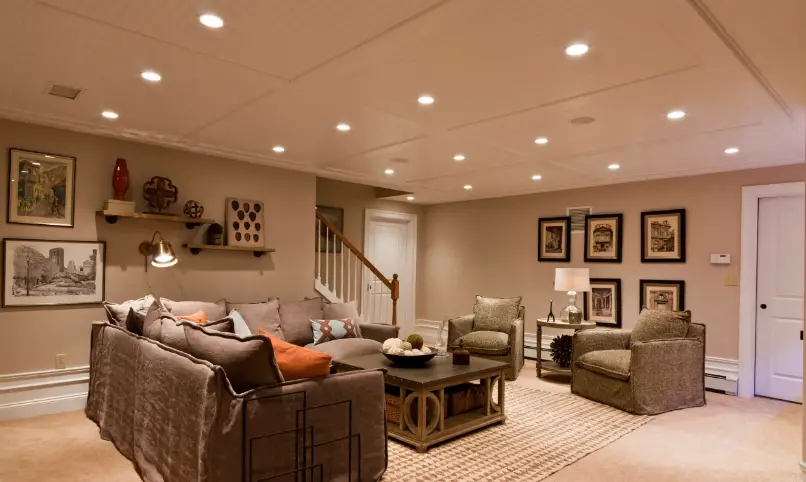 Using light, bright colors will make a small basement appear more significant and airy. The room will appear bigger than it is because lighter colors reflect light. You will appreciate a place that feels larger if you choose a color scheme like white, cream, or gray. You can also use a color scheme like blue or light yellow to lighten the area.
If you use light paint, ensure the entire basement is decorated with golden hues and light-colored flooring. In this manner, the furnishings, colors, and accessories will all complement one another to produce a seamless visual effect.
Furniture and floor
When selecting a basement ceiling color, it is also essential to plan what furnishings will be in the basement.
Having bright furniture can help to show the basement as spacious. If you choose light-colored decor and furniture, the basement feels more extensive and increases the room's space. As you know, light colors such as sky-blue and little yellow reflect light and raise the ceiling's height. In this case, paint your ceiling black. It is a popular design that gives enjoyment.
In addition, select of floor color is the same important as furniture in painting your ceiling. If you have compromising color floors, such as gray floors, do not change the basement style, and you can choose a color that you may want. In the case of other colors, do not select a ceiling color that contrasts with the color of your floor. It catches the eye and leaves terrible feelings.
The shape and size of the basement
How big or small your basement is determined by which color to paint basement ceiling.
If you want to create the feeling of an enormous basement, painting the ceiling white creates a more comfortable feel, as if you are sitting in an ample space.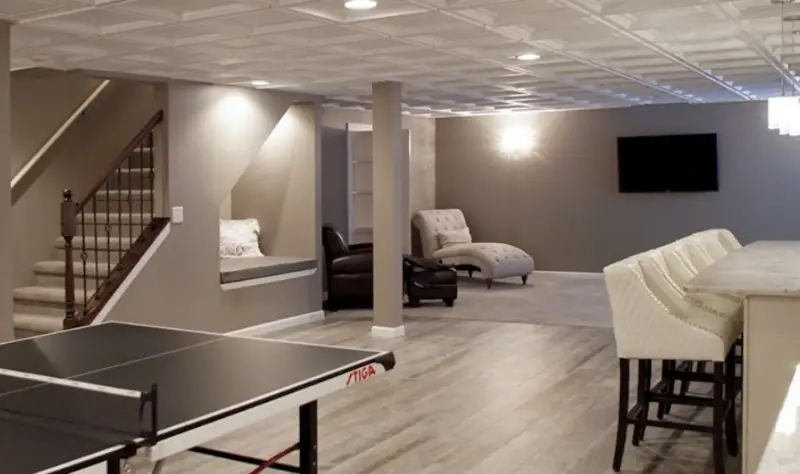 Black ceiling paint is preferable if your basement ceiling is not short but too old. It shows your basement more modern as it hides well all flaws.
How to paint your basement ceiling
Finally, let's decide by which method to paint your ceiling.
Your basement ceiling can be painted in a variety of ways. To paint by hand, you can use a brush, a roller, or a spray gun for a quicker finish.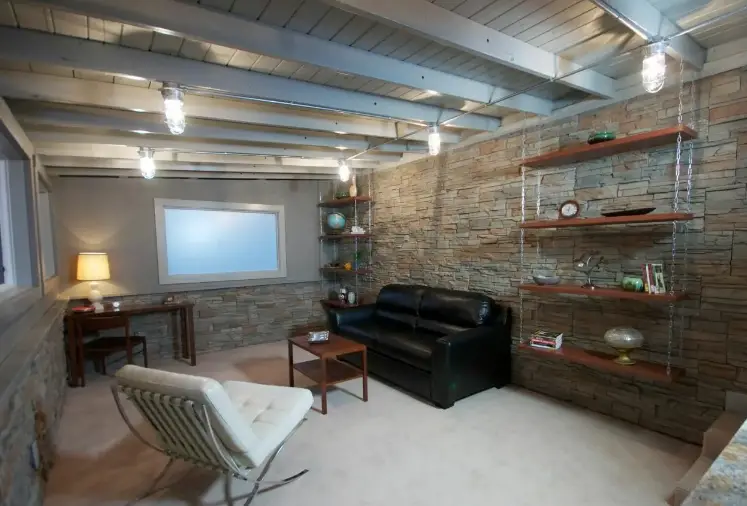 Painting with a spray gun will be simpler and quicker than doing it manually. You can also achieve a finish that is smoother-looking and more even. A spray gun can be dirty.
Use drop cloths to cover your flooring when painting, no matter how you choose. Additionally, you should wear clothing suitable for getting paint on, since you will probably dribble on it at some point during the procedure.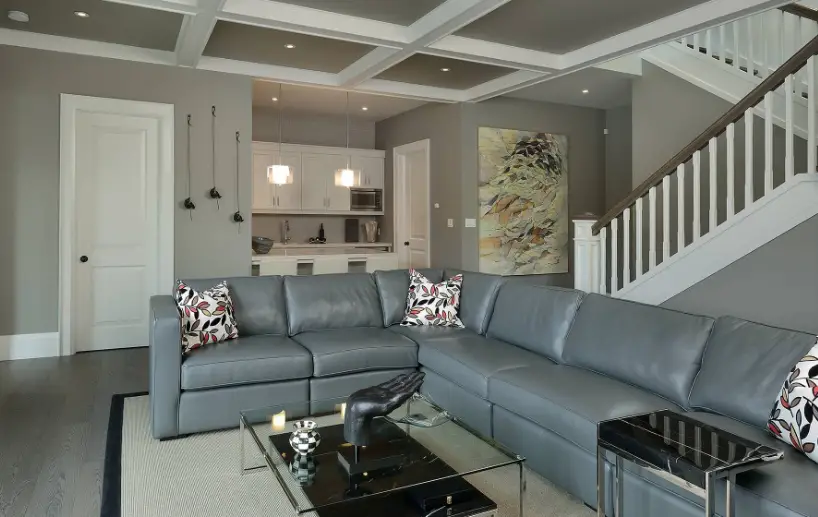 The entire surface you will paint should be covered with a primer. The paint can stick to various surfaces thanks to the primer. Make sure that the primer you are using is suitable for the color and texture of the ceiling you plan to paint.
Remember to protect walls and floor, no matter by which method you paint with a roller or spray paint gun. Cover them with paper or cloth so the walls and floor will not be messy. Read about Low ceiling small basement ideas in the article
Frequently Asked Questions
What is the best color to paint an exposed basement ceiling?
After looking at the characteristics of good paint colors, it is challenging to choose only one. In a word, it all depends on you.
What intention are you going to use the basement, and how do you want to see your basement? That two question helps to find your perfect color to paint exposed basement ceilings.
If I were asked what color to paint, the basement ceiling could satisfy all people's ideas; it is gray.
The middle point has the advantages of two opposite sides, colors black and white. It can match all basement configurations and gives good feelings.
Should I paint my basement ceiling the same color as the walls?
It depends on what color you're the basement walls. It would help if you visualized whether you would use the same color as the walls to paint your basement ceiling. There are some recommendations that you need to follow.
Lighter color walls
If the walls of your basement walls a lighter color, such as light gray or white walls, you can paint the ceiling of your basement in the same color. Lighter color gives you a unified aesthetic and makes your basement a bright space.
Darker color walls
But it won't be a good idea if you have darker color walls, like black or dark gray. The dark basement ceiling makes the room tiny. But next to darker walls, you will get a dull basement if you choose a darker ceiling. You do not have the intention to sit in a dark-painted basement.
Eye-catching color walls
In addition, it is not recommended to paint your basement ceiling in the same paint color as the basement walls if there are quickly catching the eye colors such as light yellow or sky blue. It makes a drab basement with too much strange color.
Why do people paint the basement ceiling black?
There are many reasons to select black paint for the ceiling. This better hides defects on the ceiling and creates a more darkened atmosphere, especially with artificial light. If they needed this, they chose the right solution to paint a basement ceiling in black.